I report, write, edit, design, draw, produce, host, speak, code, teach, consult....
---
In 2022, I taught two classes for Harvard's journalism program
—"Reporting on Climate Change" and "Podcasting"—
and helped produce American Scientist's first digital-first feature,
a long-term goal that began with redeveloping the magazine's website.
See the digital feature: "Putting Eggs in Many Baskets"
---
In 2021, I concluded an academic-year Nieman fellowship
and taught science journalism for Harvard Summer School.
---
Since 2015, I've been digital managing editor at American Scientist.


"New Website: Better, Faster, Stronger..."
---
From 2011-2015, I freelanced, experimented with storytelling,
reported on contract for PNAS, and contributed to The Science Writers' Handbook.
"Disabling Technology -- Don't Let Media Drive The Message"
---
From 2007-2011, I was on staff at Science magazine.
Officially, I was "Associate Online Editor" and promoted to "Web Editor" in 2009. Unofficially, I was Science's first multimedia journalist. Half of my work week was dedicated to the podcast as reporter, editor, producer, interviewer and host.

We took the podcast to the #3 spot in Science & Medicine podcasts on Apple's iTunes (now Apple Podcasts). Here's a representative show featuring:
researchers Kerry Kawakami, Laura Harrington, and Ron Hoy
journalist Carl Zimmer
Science's Deputy Editor Barbara Jasny and Online News Editor David Grimm
My beat was the original research published in Science. I also did original reporting for podcasts and videos, helped to launch the magazine's various social media feeds/channels, and contributed to multiple-media online projects.
Here's a playlist of some videos I made at Science.
---
From 2005-2007, I was the inaugural science reporter at St. Louis Public Radio,
where I also contributed to NPR and The Associated Press.
The position was part-time and grant-funded, so I traveled down from my home in Michigan each week. I spent two nights in the dorms on the campus of the University of Missouri - St. Louis, where the station was located at the time. I produced a lot of stories, won an Excellence in Journailsm award from the Greater St. Louis Association of Black Journalists, and even got a few stories on the national network.
---
From 2003-2005, I freelanced full time—including writing my first major newspaper story for The Dallas Morning News.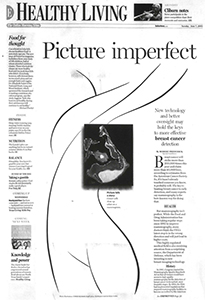 ---
I got my start as a science journalist in 2003
thanks to a AAAS Mass Media Science and Engineering Fellowship
while pursuing my master's degree in applied mathematics.
I produced two dozen stories that fellowship summer for KUNC-FM. This one I pitched to the network—my first national story.